News
VINCI proud sponsor of 2024 Olympics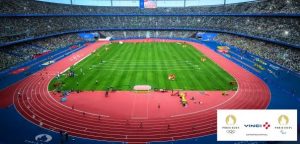 Omexom New Zealand's parent company, VINCI, has been announced as an Official Supporter of the Paris 2024 Olympic and Paralympic Games.    This global event has already been benefitting from the contributions of VINCI Group companies – eager to leverage their expertise to expand their reach – for some months now.
We can take pride in supporting the world's largest sporting event, and working in close collaboration with Paris 2024 in the country where our parent Group's story began. We too believe that together we can go faster, higher and stronger!
VINCI closely identifies with the pledge made by Paris 2024 to organise the Games in a more responsible way, keeping the carbon emissions generated by the event to less than half of those from previous Games, while creating job opportunities and celebrating the positive impact sport can have on society.